Arctic Node
Automate cyber threat information flows with Arctic Node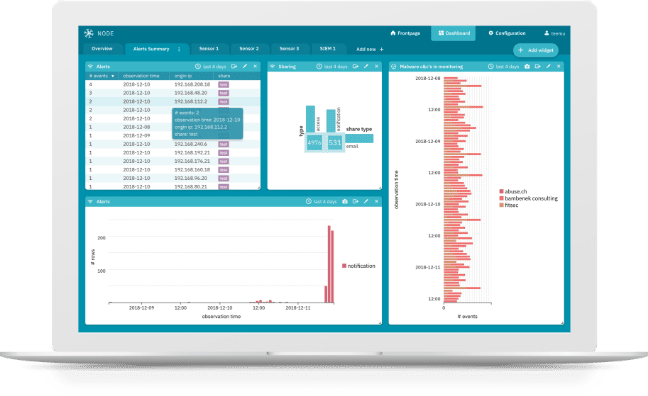 Aggregate, integrate, automate
Most organizations have access to lots of cybersecurity information. The hard part is keeping track of and using that information in ways relevant to your organization. Cybersecurity issues can be about suspected breaches, publicly exposed services or open services that you may have unintentionally exposed to the internet.
Our enterprise product Arctic Node helps you automate the processing and integration of the actionable threat information available to you. Arctic Node receives threat data from Arctic Security's Early Warning Service, early warning services offered by governments or managed security providers. It can also receive data from other sources and tie them all together.
Automated cybersecurity
The sooner notifications are dealt with, the more effective they are. We have built Arctic Node to be a seamless automated experience that provides access to more immediate notifications. You can use integration APIs to send information directly to your existing case management systems and automate the delivery of notifications to the correct internal team.

With direct integration to popular SIEMs and network monitoring systems, Arctic Node helps you better use the threat data feeds that your service provider may offer. In addition, our dynamic indicator list functionality enables you to compose and maintain up-to-date information for monitoring and blocklist purposes.
Managing multiple sources of cybersecurity information
Managing and prioritizing cybersecurity issue notifications for relevant IT and security teams can challenge organizations that have sprawling infrastructure. For corporations with a presence in multiple countries, you may need to merge reporting from multiple NCSCs, managed security providers, or Arctic Security's Early Warning Service to have proper external monitoring coverage. Arctic Node fetches data directly from your provider over APIs and automates these workflows.
See what's happening
Arctic Node's dashboards offer you a better overview of reported issues so that you can track them within a single system. In addition, you can customize views to match your use case and track problems over time.
Key features
True situational awareness
When you have situational awareness, you can monitor how your cybersecurity service performs over time and make improvements. The Arctic Node dashboard shows real-time information on threats your customers have faced for true situational awareness.
SIEM integration
With up-to-date threat intelligence in your Security Information and Event Management (SIEM), you can perform better analyses on your logs to discover and solve issues. Arctic Node can be integrated into your existing security information and event management systems to better make sense of your security posture.
Incident response platform/ticketing integration
In cybersecurity, speed is critical. Arctic Node allows you to further automate information flows through integration with your incident response platforms and ticketing systems to fix the critical issues in your network faster.
Security sensor integration
Security sensors are a smart addition to cybersecurity infrastructure, alerting you whenever suspicious traffic is detected. Arctic Node can be integrated with security sensors to automatically receive the latest cyber threat data to improve overall security.
Threat intelligence feed and platform integration
Out-of-the-box, Arctic Node can collect threat intelligence directly from a cybersecurity center or other central operator that's using Arctic Hub. There are around 100 commercial and open-source threat feeds to choose from, in any combination that works for you. You can even integrate Arctic Node into your existing threat intelligence platform.

Here are just a few examples of feeds you can integrate: