Have you had a security breach?
Find out with a free subscription to our Asset Discovery and Assessment Reports. Attack surface discovery doesn't have to be complicated.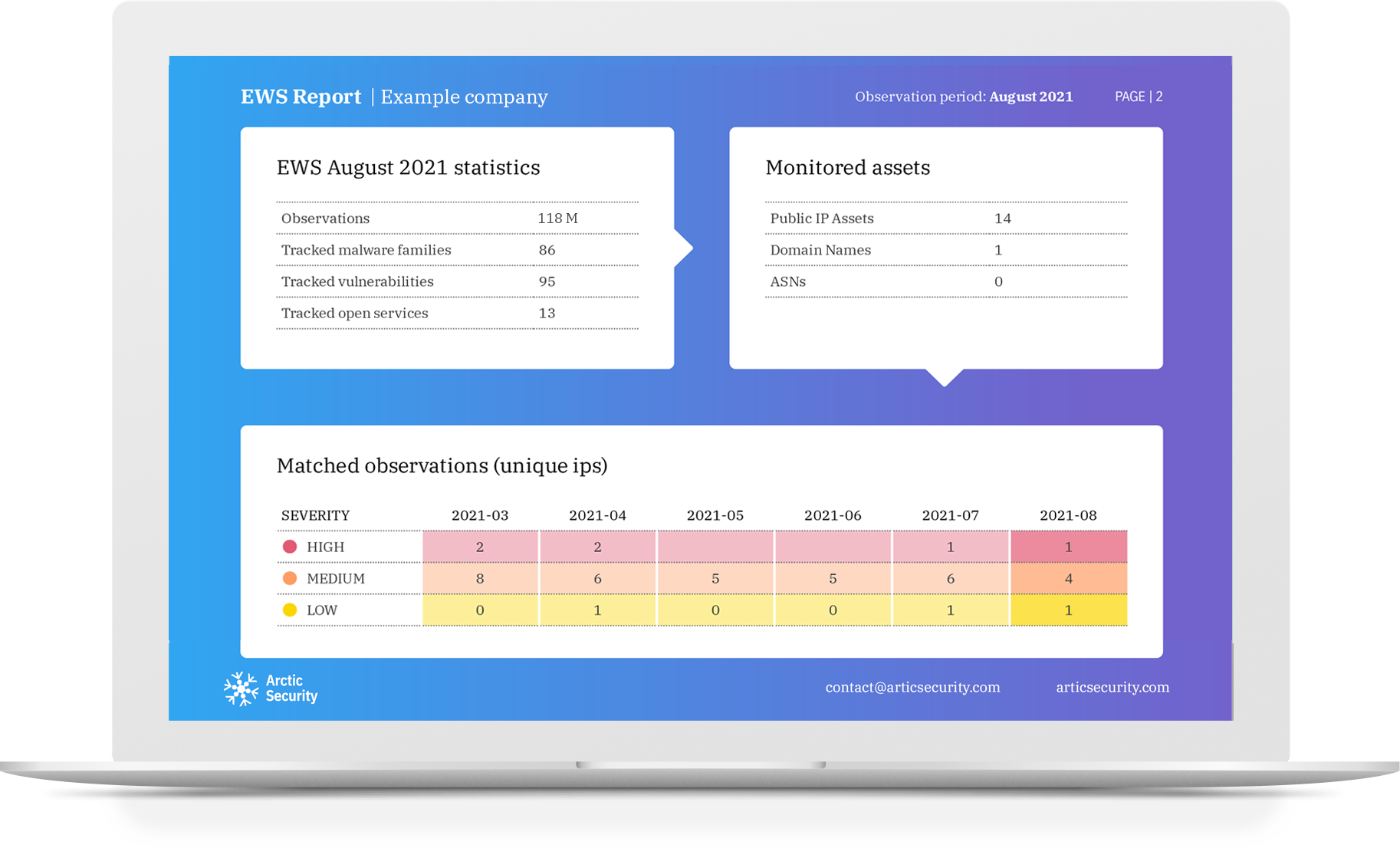 Accessible cybersecurity for every business
Companies want to improve their cybersecurity, but are overwhelmed by complexity and price.
We believe that cybersecurity is important, but we also understand that different companies have different resources. That's why we developed the Asset Discovery and Assessment – a free, light version of our Arctic EWS service.
Asset Discovery and Assessment generates a convenient monthly report designed to give you a quick high-level overview of your business network's security problems. It also helps you in your asset discovery. This is a unique combination for a free service.

External attack surface management (EASM)
Use our Asset Discovery and Assessment to discover your company's external assets. Our free service then tells you which of your assets have had various types of security-related issues and therefore helps you to form a more comprehensive external security picture.
You can use this service to track how many cases of low-, medium-, and high-severity level issues have been reported for your company over the past six months and present it to your management team. The assessment report for the free service is delayed by one month compared to the paid version.
Upgrade to commercial Arctic EWS at any time!
Arctic EWS is our commercial service that takes things to the next level. It offers a detailed report that shows precisely where reported problems are and when they were found. If you want to give Arctic EWS a test drive before subscribing, you can do so with our one-month fully-functional trial.
Sign up for Free Arctic EWS Service
You can register and access the free service by completing this form. After registering, you can access your asset discovery and assessment report.
Arctic EWS is a service intended for businesses and organizations, so please sign up using your business email address which helps us to identify your organization. The sign-up process requires a valid email address, which is also used to verify the domain name used to match data to your organization and will be associated with the Arctic EWS. Signing up with a free email service is not allowed, as you are most likely not in control of that domain.
We may need to contact you to confirm the registration details if there is no apparent connection between the registered email domain and the provided organization name.
Key features
Third-party cybersecurity validation
Have you ever wished you could see your network from the outside? Arctic EWS allows you to do exactly that, and the information it provides can often be business critical. The ultimate goal of an Arctic EWS subscription is to achieve an empty monthly report and minimal daily notifications.
A cost-effective solution
You can't normally purchase global data sources for individual networks. But we can. Arctic EWS is a reliable, cost-effective way to get access to threat information that would otherwise be pretty expensive. We put this data right at your fingertips, making it cheaper, quicker and more convenient to access.
Easy implementation
Onboarding with Arctic EWS couldn't be easier. Simply fill out the form on this page, which gives us a better picture of your assets and review the results of our asset discovery. You'll start to receive notifications as soon as there is something to report. With Arctic EWS, you don't need to keep track of any hardware or software and there are no network access concerns – monitoring is 100% external.
Non-stop service, 24/7/365
While scheduled vulnerability scans from external consultants are useful, they leave you exposed between scans. With Arctic EWS, you don't need to wait for scans at all – monitoring is continuous. You can discover vulnerabilities, suspected malware, compromised systems and more, around the clock.