Secure your business
Companies want to improve their cybersecurity, but are overwhelmed by complexity and price. Arctic EWS makes it easy and affordable.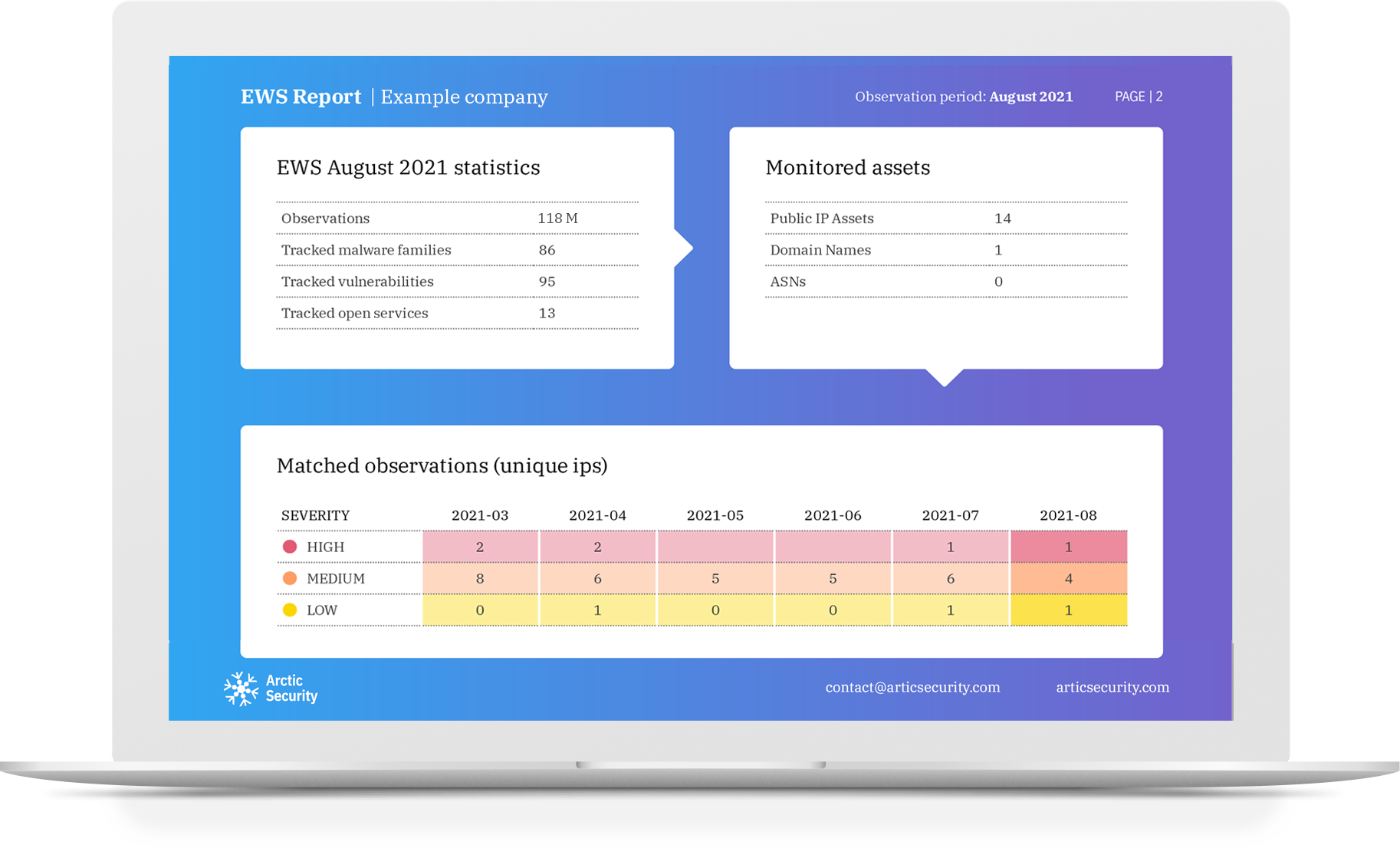 Arctic EWS alerts you about your cybersecurity issues
We match all relevant observations to your organization into ready-to-use notifications. Every notification is related to you and your assets, not to what is happening somewhere else on the internet.
Arctic EWS handles threat types such as compromised machines and remotely exploitable services acting as publicly accessible weak points in your network.

Arctic EWS doesn't replace but rather compliments your existing security measures. It adds an extra layer of security to your operations by catching incidents that have passed through your current security solutions.
A simple step for a real-time view on cyber threats
Arctic EWS notifications let you know when there are immediate security issues in your organization's network. Enhance your security by increasing the visibility of the cybersecurity issues that could damage your operations. Instead of reacting to issues, preact to them using high-quality information: fix problems before they cause harm.

Early warning service is cost-effective and easy to set up and maintain for any business. Once you enter your businesses network information, you can start receiving notifications without any complex configurations or installation processes.
Key features
Third-party cybersecurity validation
Have you ever wished that you could see your network as others see it to be able to fix issues? Early warning service allows you to do exactly that, and the information it provides can often be business critical. The goal of Arctic EWS subscription is to achieve an empty monthly report and minimal daily notifications.
A cost-effective solution
Normally, you can't purchase global data sources for individual networks. But Arctic Security can. Arctic EWS is a reliable, cost-effective way to get access to threat information that could otherwise be expensive. We put that data right at your fingertips, making it cheaper, quicker and more convenient to access.
Easy implementation
Arctic EWS onboarding couldn't be easier. Simply fill out a form about your assets and review the results of our asset discovery. You'll start to receive notifications as soon as there is something to report. With Arctic EWS, there is no hardware or software to maintain and with completely external monitoring, there are no network access concerns.
Improved business efficiency
Services can often lead to extra work, especially if you want to get the most out of them. Arctic EWS does not add to your workload, it actually reduces it. There are no time-consuming analyses. Your IT staff can just receive information, review it and take action. And the earlier they act, the more empowered they will be to do more.
Non-stop service, 24/7/365
While scheduled vulnerability scans from external consultants are useful, they leave you exposed between scans. With Arctic EWS, you don't need to wait for scans at all – monitoring is continuous. You can discover vulnerabilities, suspected malware, compromised systems and more – around the clock.
Effortlessly meet compliance requirements
Compliance can feel like extra work, but it's there for a reason. Ideally, you'd want to be compliant without it feeling like a chore. With a subscription to Arctic EWS, you're checking several boxes right from the start, including key NIST 800-172 and CMMC requirements relating to incident response, risk management, security assessment and situational awareness.
Arctic EWS pricing
Small
Less than 1000 employees
Billed annually at 12 000€
Medium
Between 1001 - 5000 employees
Billed annually at 24 000€
Large
Between 5001 - 10000 employees
Billed annually at 48 000€
Sign-up for Arctic EWS
One-month free trial available
Sign-up to Arctic EWS is free. After completing the sign-up process and adding your asset configuration, you can download your monthly free asset discovery and assessment report which will always be available for you.
You can upgrade to a paid subscription in our Arctic EWS portal. Our paid service comes with a no-strings-attached free trial.
Arctic EWS is a service intended for businesses and organizations, so please sign up using your business email address which helps us to identify your organization. The sign-up process requires a valid email address, which is also used to verify the domain name used to match data to your organization and will be associated with the Arctic EWS.
Registering using a free email service is not allowed, as you are most likely not in control of that domain. We may need to contact you to confirm the registration details if there is no apparent connection between the registered email domain and the provided organization name.