Effective and affordable cybersecurity
Complexity and cost can often make cybersecurity feel overwhelming. Arctic EWS makes it easy and affordable.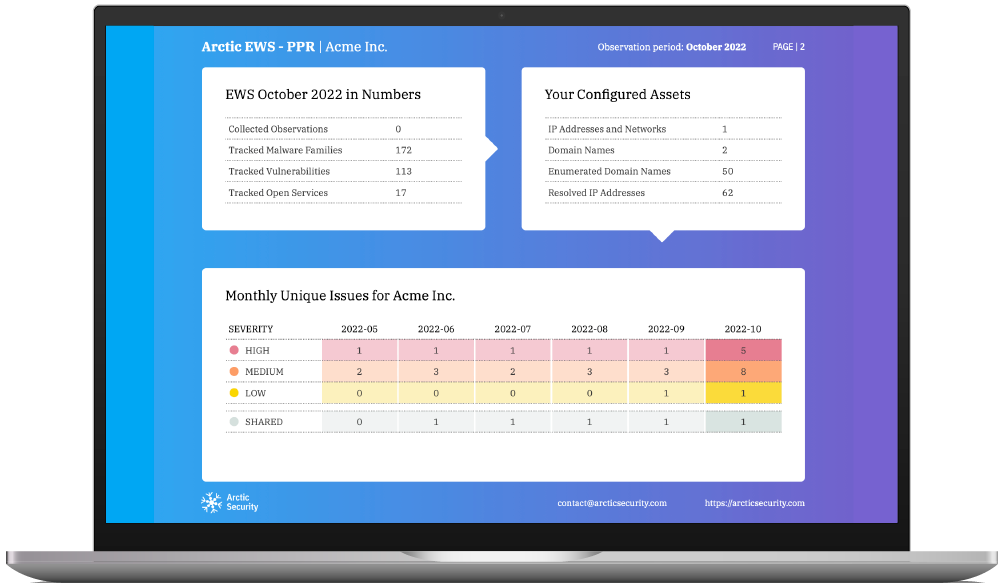 Get world-class security reports
Arctic EWS matches global cybersecurity observations to your organization and turns them into ready-to-use notifications. It handles threat types such as compromised machines and remotely exploitable services that act as publicly accessible weak points in your network.

Arctic EWS notifications reveal the immediate security issues in your organization's network. Enhance your security by increasing the visibility of cybersecurity issues such as data breaches that could damage your operations. Instead of reacting to issues, anticipate them using high-quality information: fix problems before they cause harm.
A simple and cost-effective solution
Arctic EWS doesn't replace but rather compliments your existing security measures. It adds an extra layer of security to your operations by catching incidents that have passed through your current security solutions.

Arctic EWS is cost-effective and easy to set up and maintain for any business. Once you enter your business' network information, you can start receiving notifications without any complex configurations or installation processes.
External attack surface management (EASM)
Arctic EWS contains a function called Asset Discovery and Assessment. Using this function, you can generate a convenient monthly report designed to give you a quick high-level overview of your network's security problems.

This function uses your domain name as an asset discovery starting point, which allows you to see your external network assets. It tells you which of your assets have had security-related issues and helps you to form a comprehensive picture of your attack surface. Asset Discovery and Assessment reveals third-party assets hosted by your vendors so that you can keep an eye on whether they are secure.
Arctic EWS works in the real world
So far, so theoretical. To show that Arctic EWS really does work in the wild, we performed a case study in higher education that provided us with some welcome conclusions. The study showed that Arctic EWS:
reduced average time-to-fix from 81 days to 1.3 days
minimized false positives
halved the number of weekly security issues
improved security posture without burdening IT teams
Key features
Third-party cybersecurity validation
Have you ever wished you could see your network from the outside? Arctic EWS allows you to do exactly that, and the information it provides can often be business critical. The ultimate goal of a subscription is to achieve an empty monthly report and minimal daily notifications.
A cost-effective solution
You can't normally purchase global-level access to data breaches for individual networks. But we can. Arctic EWS is a reliable, cost-effective way to get access to threat information that would otherwise be expensive. We put this data right at your fingertips, making it cheaper, quicker and more convenient to access.
Easy implementation
Onboarding couldn't be easier. You don't need to keep track of any hardware or software and you don't need to deal with the hassle of giving up access to your network. Our monitoring is 100% external. Simply fill out the form above to start your network asset discovery. You'll receive notifications as soon as there's something to report.
Improved business efficiency
Services can often lead to extra work, especially if you want to get the most out of them. Arctic EWS doesn't add to your workload. In fact, it actually reduces it. There are no time-consuming analyses. Your IT staff can just receive information, review it and take action. And the earlier they act, the more empowered they'll be to do more.
Non-stop service, 24/7/365
Defensive cybersecurity is about staying vigilant. While scheduled vulnerability scans from external consultants are useful, they leave you exposed between scans. With Arctic EWS, you don't need to wait for scans at all. Our monitoring is continuous. You can discover vulnerabilities, suspected malware, data breaches and more - around the clock.
Effortlessly meet compliance requirements
Compliance can feel like extra work, but it's there for a reason. We all want to be compliant without it feeling like a chore. With a subscription to Arctic EWS, you're checking several boxes right from the start, including key NIST 800-172 and CMMC requirements relating to incident response, risk management, security assessment and situational awareness.
Free asset discovery and assessment
Understand your attack surface
Defensive cybersecurity is all about knowing what to defend. If you are curious about your cybersecurity exposure, our free external asset discovery is designed to give you a quick overview of your networks' assets.
In addition to providing you with attack surface assessment, this free service also includes some content and security problems about compromises and vulnerabilities. The data is sourced from our commercial Arctic EWS to give you useful information to work with and an overview of how things are going for your organization.
Arctic EWS pricing
Small
< 1,000 employees
Billed annually at €14,400
Medium
1,001–5,000 employees
Billed annually at €28,800
Large
5,001–10,000 employees
Billed annually at €57,600
Sign up for Arctic EWS
Scared of commitment? That's okay; we believe in our service and offer a monthly subscription so that you can try it without a long commitment. All you have to do is complete the form below to create an account. You can choose between our free service or upgrade your plan to the paid service. Expect to have your first security report ready to download in minutes.
Arctic EWS is intended for businesses and organizations, so please sign up using your business email address. This helps us identify your organization. The sign-up process requires a valid email address to verify your domain name. You can't sign up using a free email service as you're not in control of the domain. We verify sign-up's, and may need to contact you to confirm your details if there's no apparent connection between the registered email domain and the provided organization name.